Our life insurance company: CORUM Life
The only life insurance contract that brings together all the CORUM Butler funds.
EXCLUSIVELY
The contract is composed exclusively of shares of our SCPIs and bond funds.
TWO SCPIs
CORUM Life allows you to invest in CORUM Origin and CORUM XL, up to a limit of 55%.
FOUR BOND FUNDS
CORUM Life allows you to invest in BCO, CBEHY, CBSD and CBESG
Discover Frédéric Puzin's explanation
"What creates value is not the life insurance contract itself, but what is found in it. And what CORUM has been doing for 10 years is managing SCPIs and bond funds on a daily basis."
Frédéric Puzin – Founder of CORUM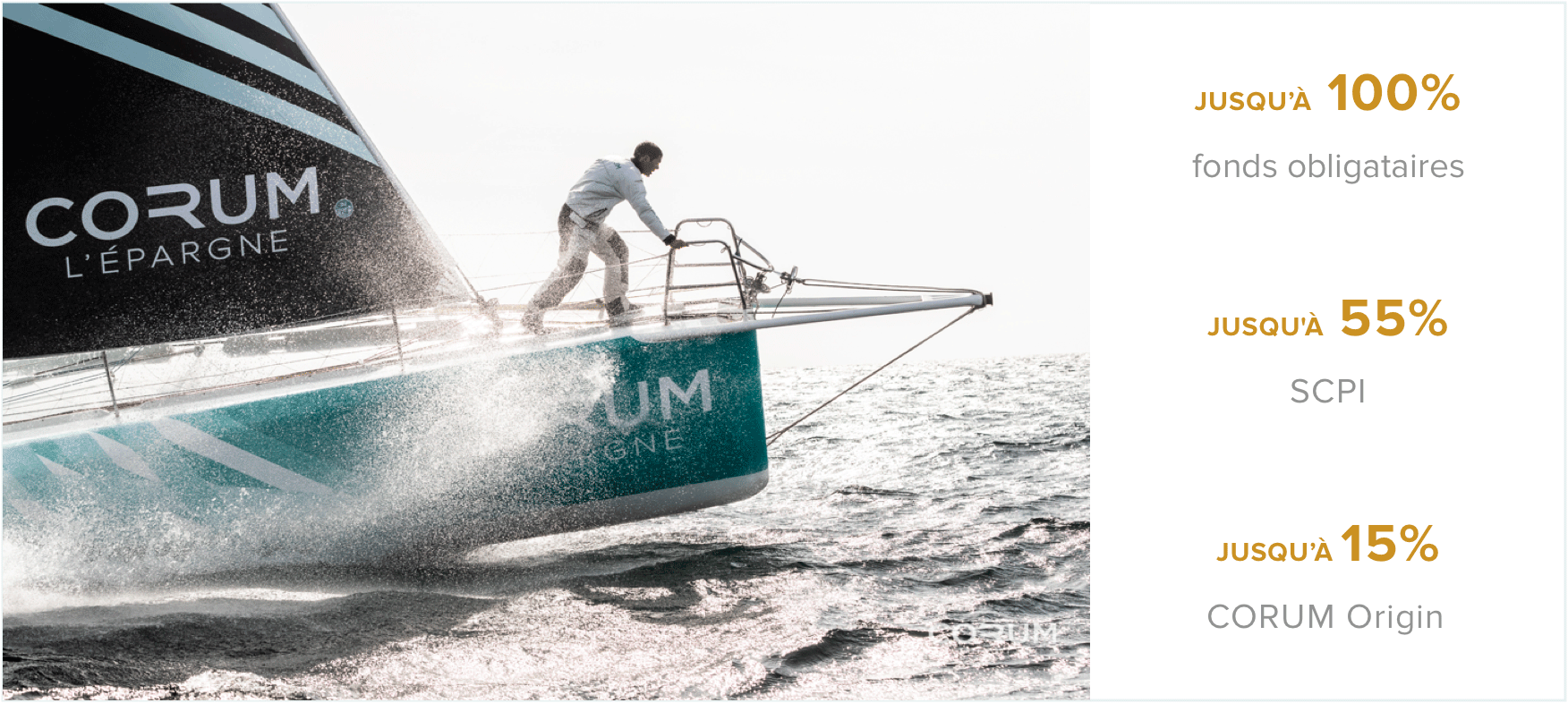 The composition of the contract
CORUM Life is the only life insurance contract to offer CORUM Butler products in its product range. Exclusive access to 2 SCPIs and 4 bond funds  from the CORUM L'Épargne range. It is possible to invest up to 100% of your savings in bond funds.
It is important to respect certain constraints on real estate funds. Indeed, it is possible to obtain the redemption of all or part of the savings in your contract within two months. Given this time frame, the maximum level of real estate investment is limited because SCPIs are not very liquid.
The specifics of the CORUM Life contract
A GUARANTEE IN THE EVENT OF DEATH UP TO 65 YEARS
100% of the sums invested (excluding fees) guaranteed in the event of death up to age 65, at no additional cost.
A FLEXIBLE INVESTMENT
From 50 euros, you have access to a selection of products in the same contract. You build up savings at your own pace, by setting up regular or one-off payments. 
NO ADDITIONAL CONTRACT COSTS
You do not pay any additional costs by subscribing to CORUM L'Épargne products via CORUM Life (no entry fees or contract management fees), and only bear the subscription and management fees relating to the products themselves.  
ATTRACTIVE TAXATION
After eight years of holding your contract, you benefit from favourable taxation (exemption or reduced tax rate) on capital gains and on your policy. 
SAVINGS AVAILABLE
You can ask at any time to recover all or part of your capital within a maximum period of 2 months. However, you will have to wait eight years to benefit from the tax advantage. 
CORUM Life is an insurance company, a public limited company with a management board and a supervisory board with a share capital of € 20,000,000, registered with the RCS PARIS under number 852 264 332, governed by the Insurance Code. Its head office is located at 1 rue Euler 75008 Paris. It is approved in France by the Prudential Control and Resolution Authority (ACPR) and is subject to control by the ACPR, 61 rue Taitbout, 75436 Paris Cedex 9. It manages the Corum Life insurance contract. 
CORUM Life is a unit-linked life insurance policy. The units of account are the units of SCPI and bond funds from the CORUM Butler Group range that exclusively make up your CORUM Life contract. These products have their own risks, including the risk of capital loss. Unlike a life insurance contract in euro funds that invests, for example, in government bonds, CORUM Life offers no capital guarantee (except in the event of death up to age 65). The amounts invested in the CORUM Life contract are therefore subject to fluctuations, either upwards or downwards, and present risks that depend in particular on the evolution of the financial or real estate markets. Past performance is not a reliable indicator of future results.